IMPROVING YOUR VANS FUEL ECONOMY
As providers of tradesman insurance, we truly have tradesmen's wellbeing at the forefront of our minds. Therefore, we have put some ​methods to help improve your vans fuel efficiency together.
As recent news shows, fuel prices are at an all-time high. With prices continuing to soar, we thought it would be a great idea to look at some tips to help the value of your van remain high and keep you away from spending at the petrol pumps.
We have analysed some of the best ways that you can keep the cost of fuel to a minimum and save up a few extra miles to keep your van on the streets for longer.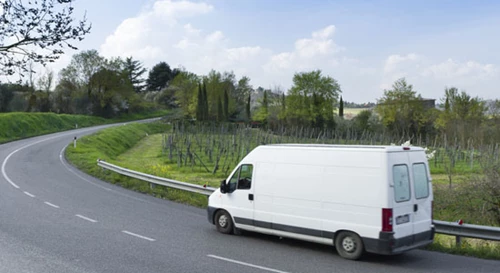 Avoid accelerating and speeding
We are all guilty of putting our foot down now and again, but this is a big no. Careless driving such as speeding, rapid acceleration and braking sharply is a waste of fuel. Speeding where unnecessary can lower your fuel economy by a large percentage. Sensible driving is always also the safe option, so let's stick to speed limits!
Avoid using the car ventilation system 
Feeling hot or cold? Try avoiding the use of air conditioning and heating if it is not needed. These are both big consumers of fuel. If the journey is so short, the best option would be to open the window if you are feeling warm, alternatively wrap up warm if it is slightly chilly outside.
Reduce the weight of the van
When you are making a trip where a lot of your equipment is not needed, don't load it, take it out. Too much unnecessary weight in the van can lead to excessive fuel consumption.
Speed bumps
Relating to our point above, speeding can sometimes cause excessive braking. Braking, then accelerating, then braking again over a speed bump uses extra fuel.
Maintain your van
It is important to get your van serviced regularly. If oil is not changed and you continue to use your van with low fluid levels, the engine performance may begin to depreciate.
Fitting a service in each year is money well spent. If problems are identified early, they will become a lot less costly to fix.
Look after your tyres
Ensuring that tyres are maintained is important for safety as well as lower fuel consumption.
Checking your tyre pressure and the condition of your tyres regularly guarantees better performance when driving. This is extremely important when weather conditions are poor.
Cut use of your car 
Ditch the car if not needed! When you have smaller jobs where equipment may not be required such as site visits, try to walk, especially if it is local. Walking gives you some fresh air, saves you some cash and prevents your van from becoming inefficient.