BACK TO WORK? 5 TIPS FOR GETTING BACK TO WORK AFTER LOCKDOWN
5 TIPS FOR GETTING BACK TO WORK AFTER LOCKDOWN 
Lockdown wasn't easy was it? I mean, there's only so much Netflix you can watch (thank god for Tiger King) and after almost killing yourself trying to keep up with Joe Wicks every day, the get fit plans pretty much went out the window on week 1. Jokes aside the period of lockdown was threatening to seriously disrupt the landscape for the self-employed, and although the Government eventually rolled out their contingency plan, it cannot be denied that for a while our worst fears were being realised.

With the lockdown eased and now lifted, tradesmen and tradeswomen could finally get back to work, but after months of sitting on the couch some found it tough to reignite their businesses and generate a new momentum. We spoke with tradespeople every day and helped many of you get back into the swing of things as best we could. As a result, we have put together 5 tips for those of you still trying to get back on your feet after lockdown.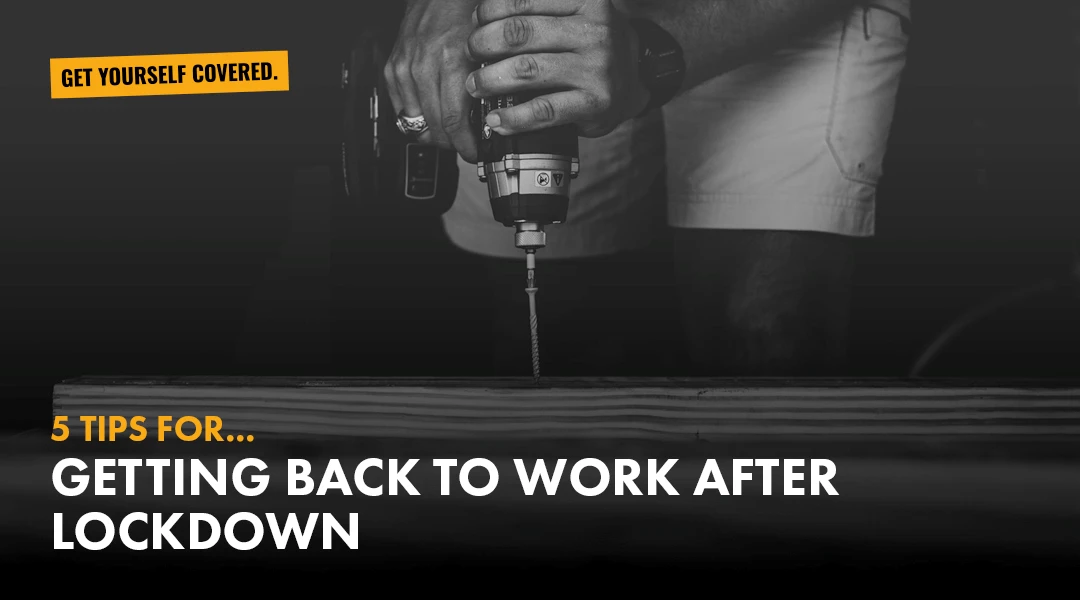 ​
BRAND YOURSELF
One thing we all did during lockdown was spend more time on social media and more time connecting with people remotely (if only we'd all bought shares in Zoom!). Statistics show that people were exposed to more adverts during the lockdown period than during your average World Cup coverage. This mass exposure highlights the need for getting noticed more than ever before, and in the post-lockdown world, this is no different. By making your business more brand focussed you are more likely to get noticed by potential customers and clients. Creating a business page on Facebook, putting together a professional LinkedIn profile, and even knocking up business cards and a logo are ways of sticking your head above the parapet in a very noisy world.
​
JOBS BOARDS
Let work find you - There are many websites and social spaces out there designed to generate work for skilled professionals in almost any trade. We work with Look a Trade who, along with numerous other providers, offer a subscription to a jobs board that offers potential clients the chance to choose your business amongst a network of talented tradespeople. There are many benefits for joining memberships such as this, and what better way of getting new business than having new business find you.
FIND A COMMUNITY
With everyone glued to their phones, tablets, and laptops throughout the last 3 months, being part of a proper trade community has been an asset to many. Being closed off from the world puts us all at a disadvantage when it comes to business and being part of a network of like-minded tradespeople is highly beneficial. We are proud partners of popular Plumbing & Heating toolbox Gas App UK, and engage with thousands of their members via 'Break Time', their online message board and forum. Being part of a community such as this means that you can share ideas, ask questions, and find out the latest news and information about your trade. Being part of a community can really help as a reminder that we have all been in the same boat.
​
GET THE RIGHT COVER
As many of us have had to down tools during this lockdown period, one of the perks of being stuck at home for weeks on end has been the ability to catch up on that all important life admin. For self-employed professionals, insurance is one of the most important assets to your business, and something that should never be overlooked. Working for yourself has so many advantages, but with it comes duties and responsibilities that your average employed professional doesn't have to worry about. A key example of this is liability when things go wrong. Being self-employed means that the buck stops with you, and without the right tradesman insurance making an error or having an accident at work can have disastrous financial consequences. No-one wants to take out cover they don't need, but it is highly useful to check your insurance documents and make sure that you have the correct levels of cover in place. If you feel like you're under-insured then get a quote from somewhere like Rhino Trade Insurance a call – it might just be worth your while!


TOOL UP!
A good tradesmen is only as good as the tools he wields. Do you know who said that? Nobody! I just made it up, but I would argue that the statement still stands! Look I'm not saying that you need the best tools on the market to do a good job, but without the right tools you can't be expected to work. It's always advised that you check your toolbox and sort out your gear whenever you get down time. If you are in need of something new sometimes it pays to pay that little bit extra, and if you are worried about your tools getting stolen, then don't – you can always get Tools Insurance to give you that peace of mind. Make sure you have the right tools folks!