PERSONAL ACCIDENT INSURANCE EXPLAINED
WHAT WOULD YOU DO IF YOU HAD AN ACCIDENT AND WERE UNABLE TO WORK?
Being self-employed comes with a lot of perks. You have the flexibility to work as many or as few hours as you please, you can work on several projects at once, and you have the benefit of being your own boss. But there are downsides.
For self-employed tradespeople, the possibility of being injured and not being able to work is a very real possibility. If you're unable to work, then you are unable to earn, and if you can't earn money, then you're pretty much screwed.
As a self-employed tradesperson, you're unfortunately much more likely to fall victim to accidents and injury than most. A bad fall could lead to a broken leg which would put an end to your ability to work for several months. And as you're self-employed, there's no chance of sick pay or a death in service payout for your loved ones should the very worst happen. 
What is personal accident insurance?
Personal Accident Insurance is a type of insurance cover which will compensate you with a lump sum at your chosen limit of indemnity should you experience an accident which means you're unable to work. The compensation can help protect against loss of income and help with other bills and expenses whilst you are unable to carry out your usual duties.
This cover is crucial for self-employed people who don't have the benefits of sick pay, and it's even more important for tradespeople who generally have a much higher risk of having accidents due to the hazardous nature of their work. 
The amount will be paid in a tax-free lump sum and will be at your chosen limit of indemnity up to a maximum of £50,000. 
What does personal accident insurance cover?
Personal Accident Insurance from Rhino will pay out in the event of bodily injury which results in you being unable to work. This will include things like hearing loss, burns, losing a finger, toe or limb, fractures and loss of vision. Different injuries will mean different payouts – check the Policy Wording document for a full list.
Accident' means a sudden and unforeseen event which happens by chance and results in bodily injury or accidental death. In the case of accidental death, the sum will be paid to your nominated legal representative, which can be your partner or other family member.
With Rhino's excellent coverage, you will benefit from:
Lump sum payment of up to £50,000 in the event of an accident
Your choice of three different levels of cover
Monthly or annual payment options
Premium starting from under £8 per month
Instant cover with documents immediately
Always refer to the Policy Wording for details of any policy before purchasing to make sure it covers everything you need it to.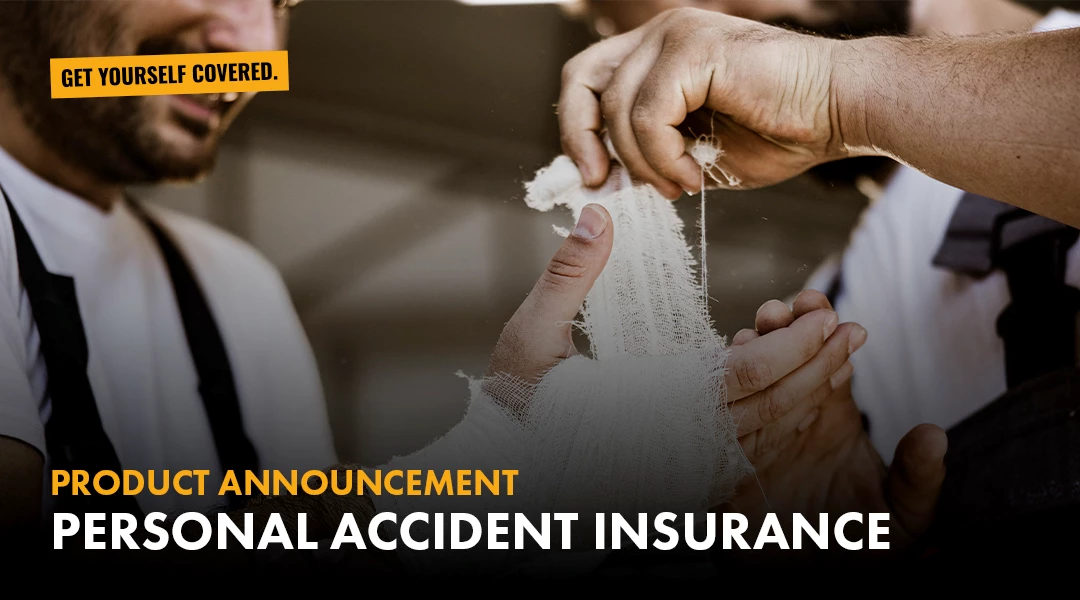 Is Personal accident insurance a legal requirement?
Personal Accident Insurance isn't a legal requirement, but it does give you peace of mind that should an accident occur, you'll receive a lump sum of money to help keep things ticking over while you recover. This is why no tradesperson should be without it.
Do I need personal accident insurance?
We think every tradesperson needs Personal Accident coverage. The risk of having an accident is too high to go without cover if you're working in the trades. Imagine the added stress of financial pressure on you and your family should you have an accident which meant that you couldn't work. 
Personal Accident Insurance won't undo what happened, but it will mean you can concentrate on your recovery without losing sleep over finances.
Personal accident insurance FAQ
Can I get this kind of insurance if I'm self-employed? 
Yes, and it is self-employed people who need it most. Without sick pay or an employer's benefits package, you're on your own should something happen which means you're unable to make your usual income for a while. This is why self-employed people should cover this eventuality by taking out a Personal Accident Policy.
Is Personal Accident Insurance tax deductible? 
No. Unlike Public Liability Insurance and Employer's Liability Insurance, Personal Accident cover isn't tax deductible. This is partly because you can make a claim on your Personal Accident Insurance for accidents which have happened outside of work, which means it cannot be considered a business expense.
Does Personal Accident Insurance include sickness? 
No, your Personal Accident Insurance policy only covers accidents, not sickness. To get protection for if you become sick, you should consider Income Protection Insurance, which will pay out in the case of you developing a medical condition or disease which means you're unable to do your usual work.
Does it cover me while I'm not at work?
Yes. You can claim on this policy for accidents you've had outside of work. As with any policy, Personal Accident Insurance comes with some exclusions. These include accidents you've had while participating in dangerous activities including flying in a non-commercial plane.
For a full list, refer to the Policy Wording document. 
How much does Personal Accident Insurance cost?
You can get covered with Rhino from just £89 per year, or £7.42 per month. You can choose to either pay monthly or annually upfront – there are no extra fees or penalties whichever way you pay.
All situations are different, so there is no one-size-fits-all quote. There are a few factors which affect the price of your cover, including the level of risk you face in your work. The best way to get a quote for your individual business circumstances is to talk to Rhino today. Call us on 0115 350 1545, open a live chat, send us an email at info@rhinotradeinsurance.com or simply enter a few details into our quick quote generator.
Is it the same as Income Protection Insurance? 
No. Income Protection Insurance is a different policy to Personal Accident Insurance. They're similar, in that they both offer financial protection in case you're unable to work, but whereas Personal Accident Insurance pays out a lump sum, Income Protection Insurance will pay a regular sum each month up to a maximum of £2,500.
Also, Income Protection Insurance will pay out in the event that you become ill, whereas Personal Accident cover is for accidents only. Many tradespeople choose to get all-round protection and take out both policies. You can purchase each individually or together with Rhino, or as add-ons to a core Public Liability/ Employer's Liability package.
Having a serious accident means a lot of stress as you focus on recovering and moving on from the incident. The last thing you and your family will need on top will be financial pressure. So, protect yourself with Personal Accident Insurance today. Need more help understanding Personal Accident Insurance? For more information, head over to our Personal Accident Insurance page.
---