Five Common On-Site Injuries
Working in any profession comes with it a certain level of danger and risk, and in all lines of work there are measures that we must take to keep safe. For people working in the trades, the threat of accident or injury is always a risk, and because of this it is important to be aware of the injuries and accidents that are common in the industry.
In a way of keeping tradespeople informed, we have put together five common injuries that those working in the trades are at risk of.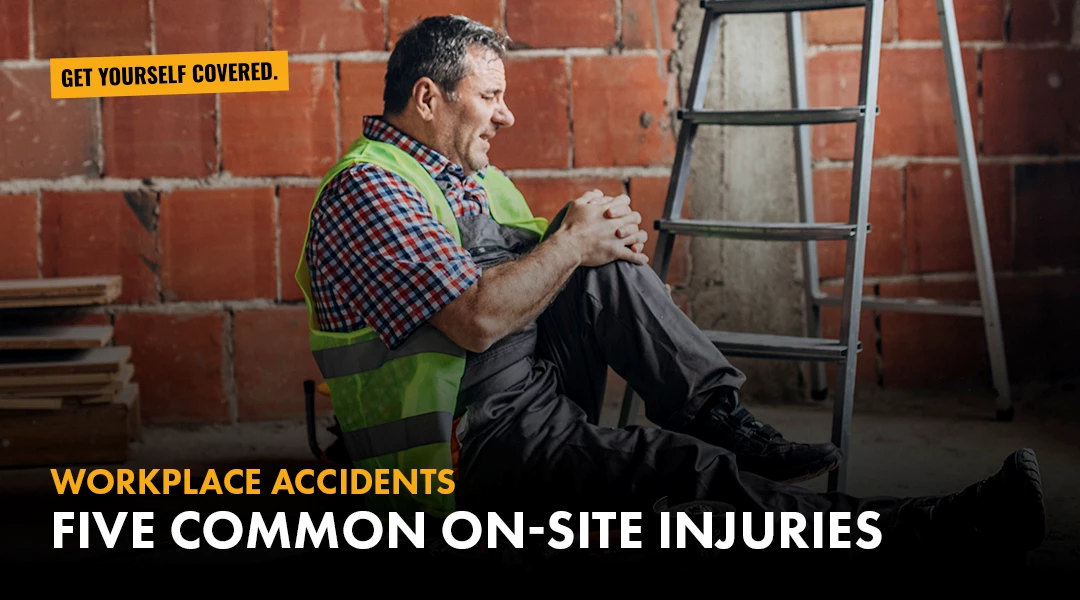 Falls
Construction workers and tradesmen commonly carry out their work from high places (scaffolding, rooftops, ladders etc.) creating the risk of injury from falls. A builder or construction worker falling from a high place is the most common accident to befall a tradesman, contributing a large proportion of on-site injuries.
Falling Materials
The importance of hard hats when on-site cannot be overstated. Whether it is tools, building materials, pieces of scaffolding, or other supplies, having anything fall from a serious height can do devastating damage if it were to fall on someone.
Electrocutions & Explosions
Until a job is complete, building sites can often have wires, unfinished electrical systems, power cables exposed. The risk of electrocution can be severe in these cases. Exposed wires can also spark explosions or fires, adding the danger of explosion and burns. Gas leaks also pose this threat and is something that is not unheard of before construction has been completed on-site.
Machinery Accidents
Building and contraction sites often require large, heavy, and dangerous machinery in order to finish a job. Large machinery such as cranes, bulldozers, or even smaller power tools may cause serious injury to those operating them.
Fatigue/Overexertion
Collapse, dehydration and even strokes are a risk to those working on-site. It is spoken about less, but fatigue and overexertion are not uncommon amongst tradespeople, and with people working long hours in heat or humidity, fatigue related accidents are quite common.
There are many ways that tradespeople can protect themselves from common accidents and injuries incurred on building sites. Having the right equipment, clobber and even a good night's kip are all ways of ensuring that you are prepared and alert when working on the tools. Making sure that you are aware of the health and safety regulations for working on a specific site is always advised to give you the best chance of handling a situation should a potentially dangerous situation occur.
To give you peace of mind when working on-site, Rhino Trade Insurance can offer Personal Accident Insurance, allowing the policyholder to work in the knowledge that if they were to have an accident or injury that results in a loss of work and income, then their finances will be protected.
Information for this article was collected from the Labour Force Survey – 2019 taken from HSE (Health and Safety Executive) Statistics.
---