Rhino Meets Phil - Our Brand New Marketing Communications Manager
At Rhino Trade Insurance, we wanted to add a touch of personality to our brand. Several ideas were floated around the office on how this could be done. Some said let's send out signed selfies, others mentioned doing some adverts and having Howard from the Halifax ad come work for us… 
Finally, we settled on a 'Rhino Meets' series.. format - whatever you would like to call it. So buckle up and meet our newest member of the Rhino team. 
Rhino Meets Phil
Phil joins the marketing team to take care of all the content - from social media, blog posts, emails, videos, gifs, memes, and much more. If you see it online, Phil will most likely have had some hand in it. But who is Phil? What does he enjoy? Well, here's a handy little Q&A for you to find out. 
Have you always been into Marketing?
Marketing has been my bread and butter since I was at Uni. I've always had something creative going on the side, whether that was my old, men's fashion and grooming blog that taught me a lot about PR, my live music YouTube channel that helped me develop my video and editing skills, or my current creative spin - my podcast. Thank Joe Rogan for my inspiration and studio design!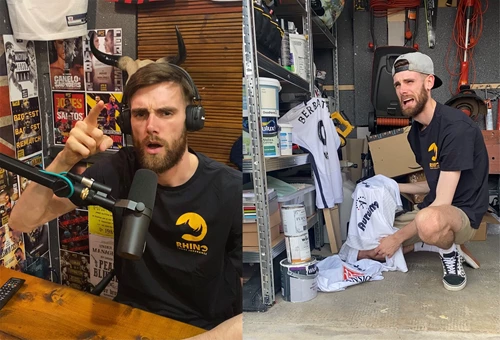 Do you support a football team?
As you can see from the picture, I'm a long-suffering Tottenham fan. And as many of my new colleagues are Leicester fans (along with one long suffering Derby fan), I can already tell this is going to be fun! But yes, most of my spare time is spent watching them play (In Nuno We Trust!) I just love football overall, and love a good debate about anything to do with it.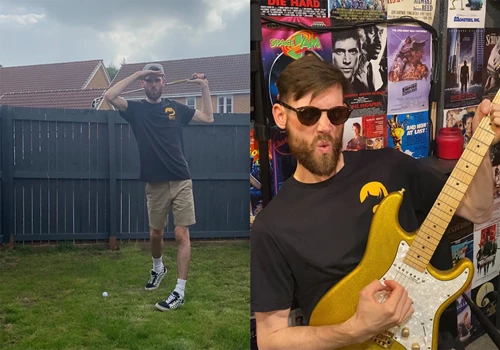 Any other hobbies?
Generally, my hobbies revolve around sports and some would say I'm old at heart so why not play golf? A round with the old golf bats is definitely a fun afternoon in my opinion. I also enjoy watching it (I hear some of you groan) but The Master's course with that soothing Peter Allis commentary has got to be right up there with the best! I also played guitar for a good chunk of my teen years and still pick it up to rock to ACDC, Guns N Roses, and all of the other rock gods!
Why Join Rhino?
I joined Rhino because it's a cool, open, and free-feeling brand. The brand is fresh and new and ready to take on the big boys in the insurance market. I am also a big fan of pushing the boundaries and challenging the status quo, and having our social media filled with banter, jokes about the trade, our products and more will be great! The added cherry on the cake is I don't mind a bit of DIY either so jobs a good'un.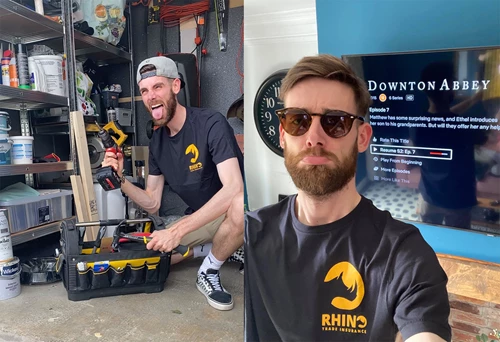 What are you watching right now?
I'm not afraid to admit that my Netflix fix right now is Downton Abbey and NO I am not wearing glasses because it's sad… It's absolutely because the sun was in my eyes. But yeah, I love anything from hard-hitting documentaries to classic British periodic dramas. 
So there we have it. Our first Rhino Meets series. Let us know what you think of Phil by following us on FaceBook, Instagram, Twitter or LinkedIn and leave a comment 🔥