The Best Halloween Costumes This Year!
We know, some people despise Halloween, but some people love it and it seems to be growing year on year. That's why we want to share some of the best costumes you can wear this year, whether you fancy a bit of banter on-site, you are going to a spooky event or going to a family party, we have all your ghost and ghouls needs, covered! 
Get on your *Spooky* dancing shoes! 
What with lockdown, Halloween hasn't been a thing for a couple of years, so it's expected that in the 'safest' possible way, plenty of people will be enjoying Halloween this year. So we've compiled what we consider the best Halloween costume list possible. So here we go! 
Squid Game Inmate
As you may have seen, some of us in the office have become major Squid Game fans, and that's why it makes our Halloween costume list. Twice! For anyone that's seen it, the tracksuit that the inmates wear has become something of a fashion icon. Many outlets are now stocking them and you can choose which character you want to be. Phil already has one and it's not even specifically for Halloween!!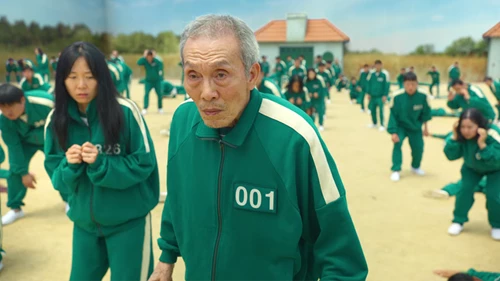 Kim K at the Met Gala
What essentially is just a black morph suit, Kim Kardashian arriving in this all-black, grim-reaper style get-up sent Twitter and the meme world into a frenzy. For any Harry Potter fans out there, she could have been easily mistaken as a dementor. All you need for this look is to be head to toe in black, showing no skin at all, so like we said: a black morph suit with black boots, gloves and that's it! 
Squid Game Guard
Back to that old chestnut, Squid Game. So, the opposing side… The guards! The guards in Squid Game wear an ominous red suit with a hard helmet covering their faces. Each helmet has a shape on which would seem to identify a rank. This is going to be the most popular Halloween costume of 2021, guaranteed! Similar to the inmate costume, many outlets online are stocking this costume, just a shame you can't wear it more than once… unless you fancy being different fitting your next boiler ;-)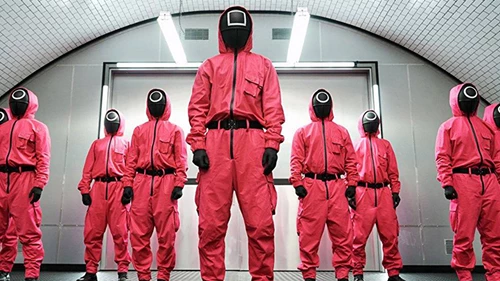 Tom Daly Knitting
This is more of a banter style costume and can be easily made. Do we all remember seeing Tom Daly knitting at the Olympics in Japan? It was a crazy highlight that beamed all over the world. 
Get yourself a plain blue vest with either Great Britain on or write it on yourself, blue shorts, a face mask and then some knitting needles (or takeaway chopsticks if you don't want proper needles). Finish it all off with a ball of wool and you're ready to go, probs not very scary but iconic indeed! 
Bernie Sanders Mittens
Honestly, this is one of the more funny ones on the list. Now we don't wanna get all political, this is just banter for Halloween remember. Cast your minds back to Joe Biden's inauguration in early 2021. What was the most viral image to come out of that ceremony? None other than Bernie Sanders sitting on a stool in the cool with his cute, knitted mittens on. All your need for this one is a pair of black trousers, a beige jacket, glasses, a bald wig and some mittens that your nan would give you. Easy as pie.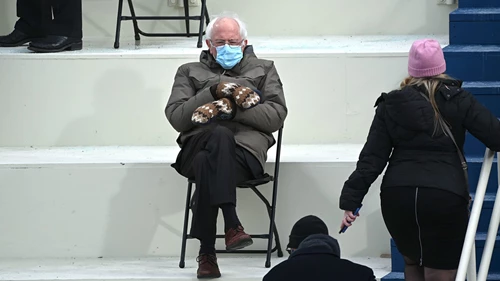 So that's it for this week! 
There you have it. Our latest and greatest blog post helps you to decide this years best Halloween costumes. Not all of us in the Rhino team enjoy Halloween, some are more Christmas fans, but some of the ones getting dressed up have been picked from this list! So share your best costumes and we'll share on our channels! 
Should you be a tradesperson looking for cover, why not contact us now. We cater for all trades and offer the best cover at the most competitive rates - Give us a call or fill out our online quote now.