Over a Quarter of Van Drivers have Tools Stolen in the UK
Tool theft in the UK hasn't just appeared. It's reared its ugly head since the dawn of time when the first hammer and nail were forged. Tradesmen and women all across the UK will know of someone (maybe even themselves) who has suffered due to some selfish individual who has stolen their vital pieces of kit. 
It doesn't go unnoticed either. It's not as though you can just go about your day when someone has taken all your stuff. The impact of having your tools nicked is substantial; you'll either have to cancel any work you have, manage to borrow some tools from fellow tradespeople, bite the bullet and replace them yourself or wait for your tools insurance claim to pay out. 
But what can we do to alleviate the worry of having your tools stolen? Are there any new laws in the pipeline, and what is the cost of insuring all of your bits and pieces? 
What is the new tool theft legislation?
MP from Buckingham, Greg Smith, has proposed new legislation to be brought in after a boatload of his constituents found themselves subject to van break-ins and tool theft. 
Smith states that the usual talk of having more bobbies on the beat and better CCTV is not enough as more than £80 million worth of tools have been stolen in the past three years. That's almost enough to buy you, Harry McGuire!
Smith is proposing new laws that would focus on the second-hand market where everyone who sells a second-hand tool must include the tool's serial number in the item description.
The idea is that should a tool be stolen, the authorities would be able to enter the tool's serial number into a database to see whether it was being sold on second-hand or auction websites. 
This would require the tradesperson to make a list of serial numbers attached to their tools, but Smith says it will encourage more tradesmen and women to come forward and report the crime because they may find their possessions through the marketplace database. There is even scope for the tradesperson to be able to search the database themselves. 
As of June 2022, the legislation hasn't passed. However, there are encouraging signs that it could form a solid grounding for a law to pass in the future. 
How thieves break into trades vans & what tools are most likely stolen
As tradespeople are often out on site and working in people's homes, they usually find themselves parking their vans on the street or a driveway. And we all know that behind every crafty tradesman or woman is a quality collection of tools stacked with bells and whistles. 
On average, it's been found that over 20,000 van break-ins happen every year, with a whopping 73% of all break-ins happening during the week. This could point toward being more relaxed about your van whilst on a job than when you have it parked safely at home. 
In the same report, data from various police forces across the country show that almost half (47%) of all break-ins are because the van is left unlocked. 19% are from the offender breaking the window, 13% from manipulating the lock signal, 12% from forcing the lock and the rest made up of stealing the key, a window being left open and prising the van door open. 
Furthermore, government data found that 1 in 10 vehicle break-ins resulted in tools being stolen. The majority were for electrical equipment, objects and valuables. In 2020, the top 5 tools stolen from tradespeople's vehicles were: Drill, Saw, Nailgun, Full Toolbox and Hedge Trimmers.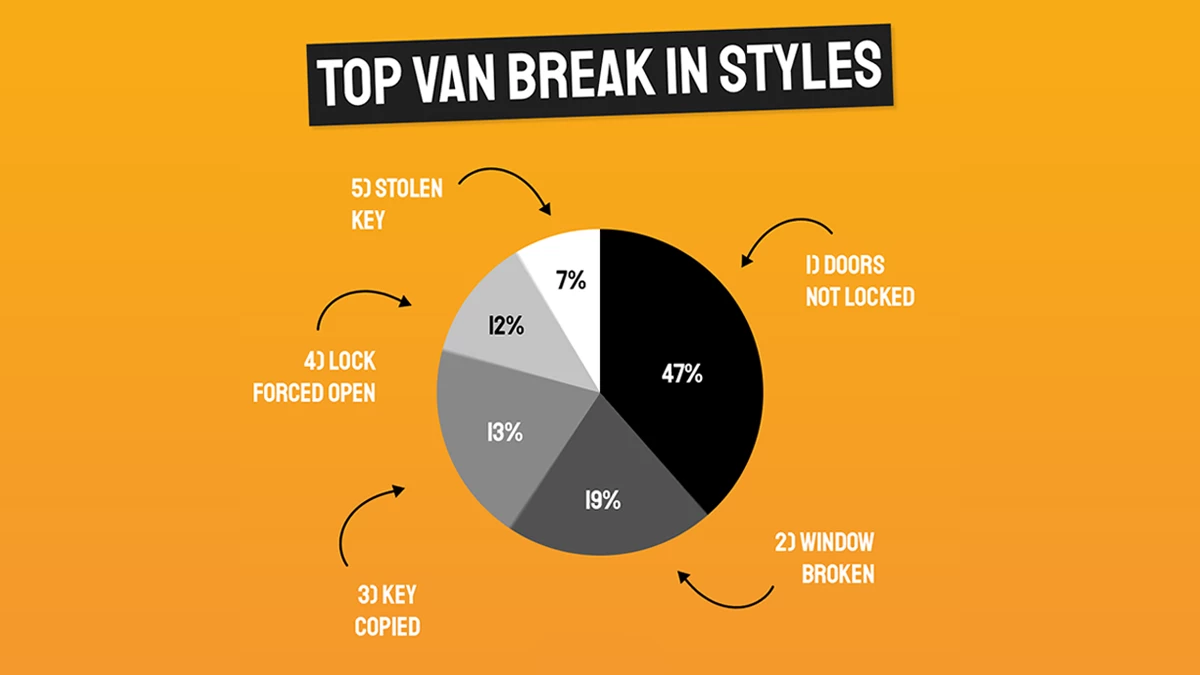 How to prevent van break in's and tool theft
There is a shedload of ways to try to keep your van and tools safe. The top tactics to follow religiously and deter any criminals would be:
Fit an alarm
Install deadlocks
Make sure you have an immobiliser
Have a bulkhead or mesh grille in between the cab and load 
Install slam locks
Store your tools in a lockable toolbox
Other tactics for outside the vehicle would include:
Personalise your tools
Keep an updated list of serial numbers
Park against a hard surface if you can and bloke any doors
Store tools indoors overnight
There are also various vans to keep your eye out for when considering which to buy. Here we shared the best vans that are also cheap to insure. 
Why choose Rhino Trade Insurance?
Tool and Van Insurance are optional and entirely down to whether they make sense to your business. However, at Rhino, we design tailormade insurance policies for your trade. So consider protecting your tools with us, or alternatively, think about your next Van Insurance plan with us. Our tool insurance policies start at just £3.75 - an absolute bargain.
If you already have your trade insurance, it's easy to add tool insurance to your current policy. It's free to do, and we can offer you the following: 
Tool cover from £500 to £10,000, which includes any damage or theft to your treasured possessions.
Need your tools repaired or replaced? The cost will be covered. Also, Rhino's policy offers protection even if your whole van is stolen. 
We offer cover for overnight storage (subject to security conditions)
Coverage in less than 60 seconds, documents with you in lighting speed, all starting from just £3.75 a month! 
Why choose Rhino Trade Insurance?
If you are looking for a lovely team based in the UK who only focuses on the trades, then you have found your match. We have experience with a variety of tradesmen and women from all over the UK. We offer plenty of trade insurance options and are always happy to help with anything you need. 
If you are interested in Tool Insurance, Van Insurance or Public Liability Insurance for your trade, call us today on 0116 243 7904 or get a quick quote online now. 
---