What to watch this Autumn!
It's time to do another special Rhino Trade Insurance post and share with you what the office has been watching over the past month. We get it. Tradespeople don't want to always just hear about Public Liability Insurance. So don't worry. We have your back in more ways than one.
Summer is over, and the colder months are coming, so what better way to avoid those dark nights than with a new tv show or movie? Let's have a look at what we've been watching now. 
House of the Dragon
For any of you who are massive Game of Thrones fans (we know, the ending sucked). Then you are in for a treat. The latest adaptation of George R.R Martin's books has come to life.
House of the Dragon is based on the book Fire and Blood, which is set just under 200 years before the events of Game of Thrones. It features some massive British actors like Paddy Constantine (Peaky Blinders, Hot Fuzz), Matt Smith (The Crown, Doctor Who), and Rhys Ifans (Harry Potter, Kevin and Perry Go Large).  
The show centres around a storyline 172 years before the infamous Daenerys Targaryen, the last descendant of the dragon-riding royal house. We haven't read the book, but the story between then and now is the fall of House Targaryen through the dynasty's own civil war - simply known as 'The Dance of the Dragons'. 
Watch now on NowTV.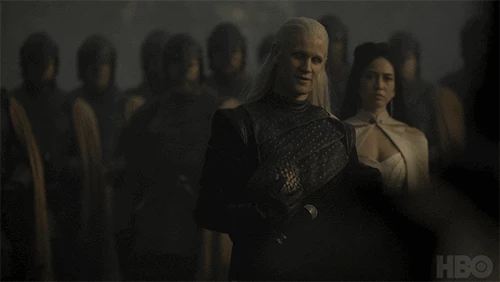 Dahmer - Monster. The Jeffrey Dahmer Story
This one is a tough one, and plenty of people have said they couldn't get through the first episode. However, some of us in the office are keen tv watchers and enjoy learning about true stories from real life (no matter how shocking they are). 
Dahmer is a 10-part series based on one of the most famous serial killers in history. There's Ted Bundy, John Wayne Gacy, and Jeffrey Dahmer. 
The show is told completely from the view of the victims so that the audience doesn't feel any sadness or sorrow for Dahmer. Across a 13-year period, he managed to kill 17 people and get away with it. The show goes into the lives of those around Dahmer who had their suspicions and how the local Wisconsin police showed clear incompetence to his attacks - in one such moment, they even returned a victim to him who was drugged and had gotten away.
Catch this series on Netflix now. 
DC League of Superpets
Now this one is for all those tradesmen and women who have children. Though it's not really a kid's film, we are sure you'll enjoy the funny references and cute dogs just as much as the young ones. 
DC League of Superpets features so many prominent Hollywood actors: Dwayne Johnson, Kevin Hart, John Krasinski, Keanu Reeves and many more. It is basically a cartoon, CGI, and pet versions of the DC comic superheroes with a comedy twist. 
Lex Luthor, Krypton, flying dogs and comments about the Great British Bake Off. What more could you want?
Watch now Online/ In Cinemas. 
A Scandi Flick
The lads from The Grand Tour are back with a band, and this one is incredible, if I do say so myself. Jeremy Clarkson, Richard Hammond and James May have all but retired their popular television series on cars, not solely focusing on specials where they test cars in different parts of the world. 
This one is a throwback to any Top Gear fans. It's vintage performances from the three motorhead presenters. So many wind-ups, plenty of gaffes, the challenges are fun and the crashes even harder!
We are not joking. James May (Captain Slow) actually has two crashes, one of which is a major one that causes a concussion.
Watch now on Amazon Prime
Lord of the Rings: The Rings of Power
The Lord of the Rings: The Rings of Power is based on the writing and storyline of J.R.R Tolkein and his mega story that captured the hearts and minds of audiences in the early 2000s. 
Now they are back with a tv series that has blasted into orbit. Not only is this one of the most expensive tv shows ever made, but it packs a whole load of entertainment if you like fantasy storylines. 
The show is set a few thousand years before what we have seen in The Hobbit and The Lord of the Rings and is a history of Middle Earth. What starts out showing a peaceful and tranquil area quickly turns into a major struggle with the emergence of the evil dark lord Sauron, the fall of a major kingdom of Numenor and the forging of the Rings of Power.
The show also reveals the start of the quarrel between men and elves, which is so apparent in the Lord of the Rings films. Fancy a new series and love a bit of make-believe? This could be for you
Catch it on Amazon Prime now. 
Don't forget, if you are interested in Trade Insurance, get a quick and easy quote now.
Why Choose Rhino Trade Insurance?
With all that said and done, we hope you enjoy some of these tv shows. Let us know what you think, and make some of us in the office happy with our recommendations. 
If you are looking for any type of trade insurance, get in touch with us and see what we can offer you. Our Public Liability Insurance is excellent and starts at just £6.07 a month. We also offer insurance for Tool protection, Vans, Income and much more. Get a quote here.